WarClicks.com is an online community shooting game, based on a tested clicking-based system, which are popular world-wide these days. There are tons of features in it, such as buying upgrades, getting special rewards for daily activities, possibility to check opponents' profile, inviting friends.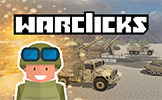 Main purpose of the concept is to get a competition going between countries and their citizens. Every citizen has the power to help grow his/her country and help it become the most powerful country in the world. The more citizens that join a country's army and the more active they are, the more powerful their country will become. As they grow stronger they will gather Battle Stars faster ('BS' – main currency that you get via in-game actions) which will allow them to buy more upgrades and features, gaining further strength.
The game also imposes strategical play as you will need to consider when to buy upgrades and which ones are the most profitable at the moment, and rewards daily activity via various daily rewards.
It's a simple game to play, but one that becomes extremely intriguing, especially when you also get involved with your friends!